Niche-Driven Search Engine Optimization: A Complete Beginner's Guide (using ahrefs SEO tool)
I wrote this guide to help you learn how to create an impact with your content marketing, using SEO to get your website found. Niche-driven search engine optimization will help you get in front of your competitors and create compelling and valuable information for your target audience.
What is a niche market, and what is niche-driven SEO?
A niche market is a narrow segment of a larger market. A great example is detailed in our case study on how we optimized a low search volume website in a specialized niche.
Whether you sell a product or a service, serving a narrow market segment with unique needs may help you create a high-growth business.
Instead of selling house plants, you might sell succulents. Instead of being a general dentist, you might focus on orthodontics. Niche-driven SEO is a strategy that will help you attract visitors interested in a specific niche or industry.
By focusing on your particular niche, you can attract more targeted and, hopefully, qualified traffic to your website and business. So, how can you create compelling content to engage your audience, get found in search engines, and grow your business?
How Creating Content With SEO In Mind Can Help Your Business.
Search engine optimization, or SEO for short, refers to optimizing websites or online content to increase their visibility in search engine results pages (SERPs).
By increasing search rankings, you get more eyes on your website. When your business operates in a niche, developing an SEO strategy can help bring more clicks and drive awareness and even sales.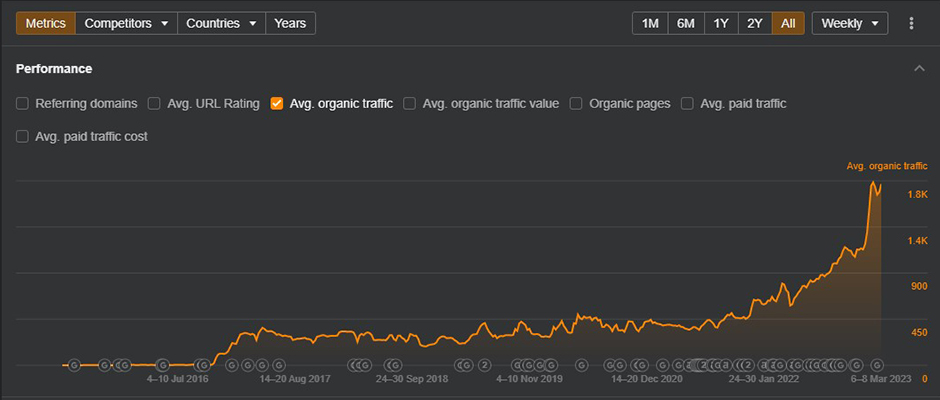 The experts tell us that it's complicated. But it doesn't have to be. If you follow the basics, do some planning, and follow some simple processes, you can have a massive impact on your market.
According to a study done by Backlink.io, the top three search results get 54.4% of all clicks. 
Moving up one position increases your click-through rate (CTR) by 32.3%. 
Ideally, you must rank pages in at least one of the top three spots, and creating content with SEO in mind from the beginning can help you achieve this goal.
When I started my first online business, I knew I had to create blog posts for my audience.
I was selling chess sets, and it is a challenging subject to write about, but it certainly is a profitable niche.
I approached blogging by thinking of an idea and then writing a few paragraphs. I added an image or two and hit the publish button.
Because I had a niche business, I got a few clicks quickly. It was easier to rank pages accidentally. 
A more structured content plan would have made it easier for readers to find my content and for me to impact the search results.
I should have followed a sound SEO strategy by conducting keyword research, understanding search engine results pages, and knowing about technical SEO and how to build links.
Over time I added more content, but this always seemed futile. My content didn't get found, didn't generate clicks, and didn't get customers.
Understanding Distribution Channels.
You can get eyes on your online business in many ways. Using distribution channels is the key to finding your blog and developing a fan base.
You can post a newly minted article on Facebook or LinkedIn. You can take a snap for Instagram. Or you could tweet to your audience on Twitter.
YouTube has become a popular channel for getting found through video. And, of course, podcasting gets you in front of listeners looking for an audio experience.
SEO is the distribution channel for the written word. People do search to get answers to their questions.
While you should distribute your content through multiple channels to generate awareness, SEO can play an essential role in helping in the long term.
How Developing A SEO-driven Content Strategy For Your Niche Can Help.
Developing a solid content strategy gives you a structured plan to follow. 
Your content strategy can be simple, but it can mean blogging is no longer hit-and-miss.
You'll no longer write articles about your cat or a holiday you just had. 
Instead, you'll write valuable, compelling, informative content for your niche audience.
But how do you know what topics you should write about?
At best, most people starting a business blog write down a list of ideas and then begin writing over weeks and months. At worst, they make it up as they go.
Following a well-laid-out plan consistently will get eyes on your website. 
The trick is to ensure they are the right eyes and that you answer the right questions.
An SEO-driven content strategy has the potential to unlock many more customers for your niche business
Let's start with a simplified process that beginners, busy people, and people who are not SEO professionals can follow.
A Simplified SEO-driven Content Strategy For Niche Websites.
You will need access to some tools to help you with your strategy:
I'll assume for now that you are creating a new website with new content. I'll discuss fixing an older website with older content in another article.
Our simplified process has six steps:
Keyword research.

Keyword ordering.

Understanding the SERPs.

Creating your content.

On-page SEO.

Link Building and promotion.
Keywords are phrases that searchers type into a search box. Your mission is to satisfy the search intent of the keywords the searcher types and to give them the answers they want.
Keywords are the lifeblood of search engines.
Your job is to create a list of keywords for your niche that you can boost to the first page or even the number one spot in Google.
Keywords have four essential attributes that you must understand:
The keyword text.

Search volume.

Keyword difficulty.

The competition.
Let's take a look at each attribute in turn.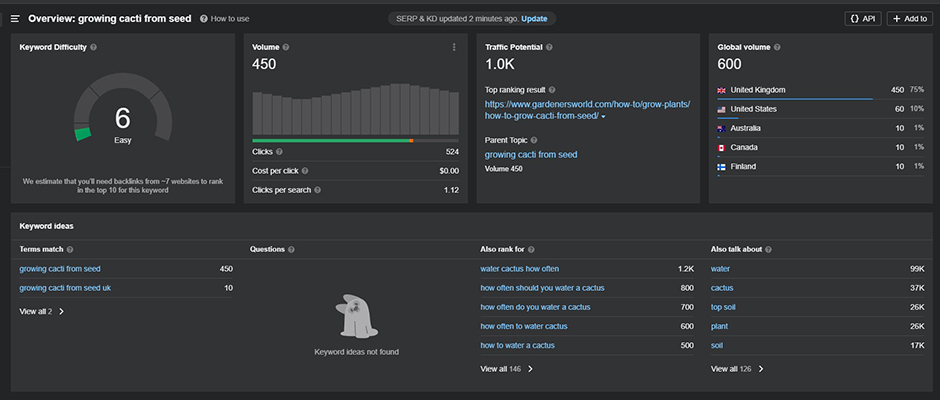 Keyword text is what the searcher types into the search box. 
SEO tools compile massive lists of keywords and related data so that marketing companies can get information about keywords.
You can use that data to help you decide which keywords to target.
When creating content, we should ensure that one article only targets one keyword, which helps search engines understand our content.
Your article will naturally rank for other keywords, but you should have one focus keyword in mind for your post.
Every keyword has a search volume. Search volume is the approximate monthly searches that a keyword gets.
Higher search volumes for a keyword are only sometimes the best. Lower search volume keywords often result in more specific searches and higher converting customers.
Keyword difficulty approximates how hard it is to compete for a keyword, usually given as a number from zero to one hundred, where one hundred is almost impossible.
Create articles targeting easier keywords if you have a new website. As you build authority, you can target more competitive keywords.
Keyword difficulty is an estimate that ignores the strength of your website compared to others.
A low keyword difficulty doesn't mean you can quickly get to number one in Google.
Considering the competition is essential for completing your due diligence. You need to understand the strength of the top ten pages in the search engine results page (SERPs) compared to your own.
For example, if these pages are stronger than your website, then it is unlikely your page will make an impact
Conversely, if your page is strong compared to the competition and the keyword difficulty is low, you should be able to get to the number one spot quickly.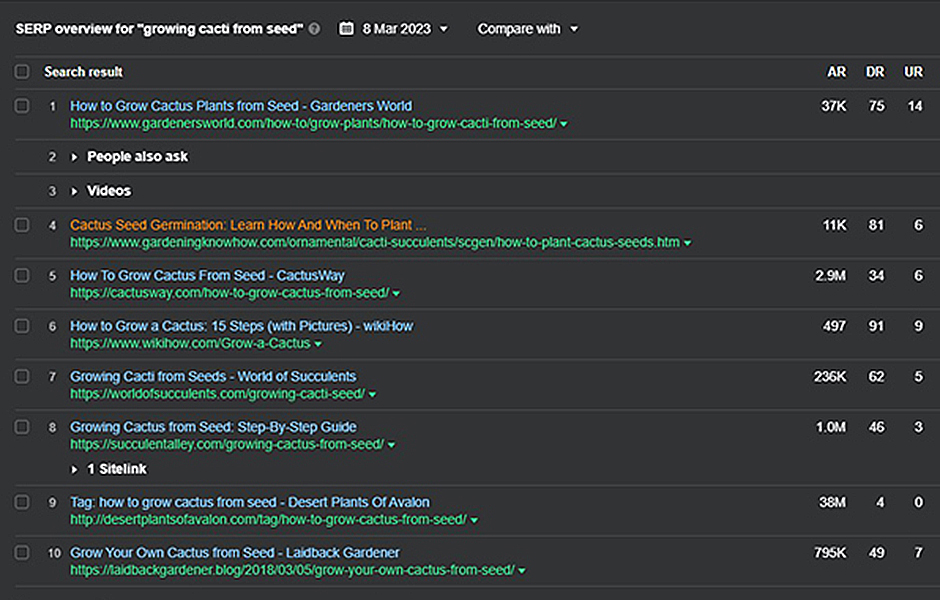 How To Find Keywords You Can Rank For Using Keyword Explorer
First, you need to find the strength of your website. Domain rating ranges from one to one hundred, where one is weak and one hundred is very strong. 
You can find your domain rating by entering your website URL into the Dashboard.
You can use the ahrefs keyword explorer tool to find keywords for your niche and help you become the master of niche SEO.
Enter a seed keyword that is a reasonably broad term. Try to stick with niche keywords, so you stay on topic. Then use the filters to reduce the keywords to a list of possible candidates.
For a new website, set your filters for a keyword difficulty of between zero and twenty. Set the lowest DR filter to be the same value as your DR and in the top 10.
Choose keywords that resonate with your niche and add them to a keyword list. You can also explore matching terms, related terms, and search suggestions. 
Spend time exploring the tool, changing filter values, and adding keywords you like to your list. It can take time to become proficient using the keyword explorer but persevere.
Once you have many keywords in your list, export it as a CSV file.
Load your exported CSV file into a Google sheet and label your columns. You only need the keyword, keyword difficulty, and search volume.
Create a filter and order your keywords by keyword difficulty (lowest to highest) followed by search volume (highest to lowest).
You now have a good list of keywords from which you can create articles, and you have prioritized them in terms of keyword difficulty and search volume.
You will start at the top of the list and work your way down when creating content for your website.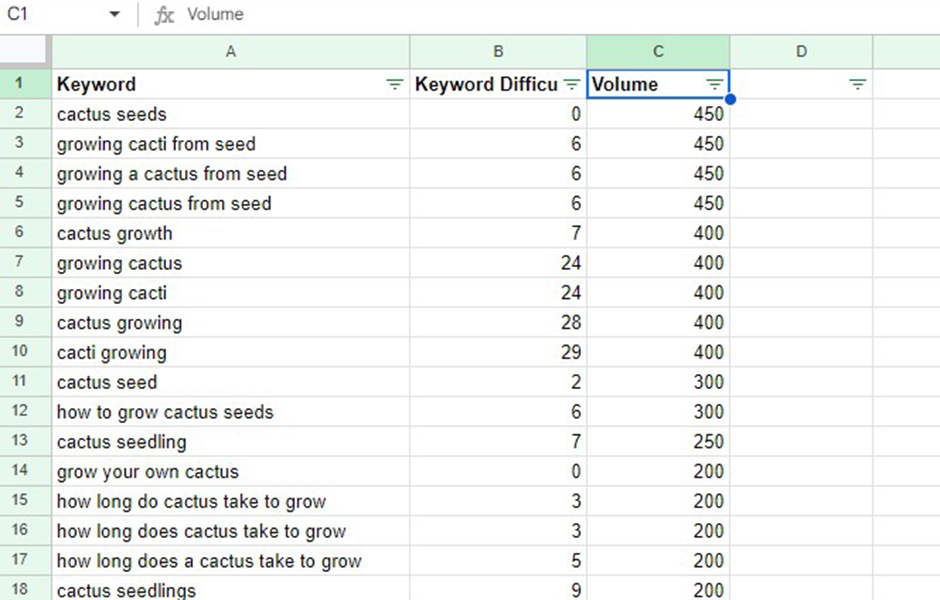 Part of creating content for a successful niche website is ensuring that your content is written inline – but better – than what the search engines service to the searcher for a keyword.
As you work through the keywords and create your posts, review the search engine results and analyze the top ten pages.
Note down things like:
How many images are there on each page?

Does the page have videos or other media assets?

How did the author construct each page? What formatting did they use?

What is the average word count of the top ten pages?

Do the SERPs have other features like People Also Ask and related searches?

Is the searcher looking for information on a topic? Are they trying to purchase an item? Do they want to compare two or more things?
You know how to build your content if you understand the pages in the top ten, how the authors created them, and what the SERPs show.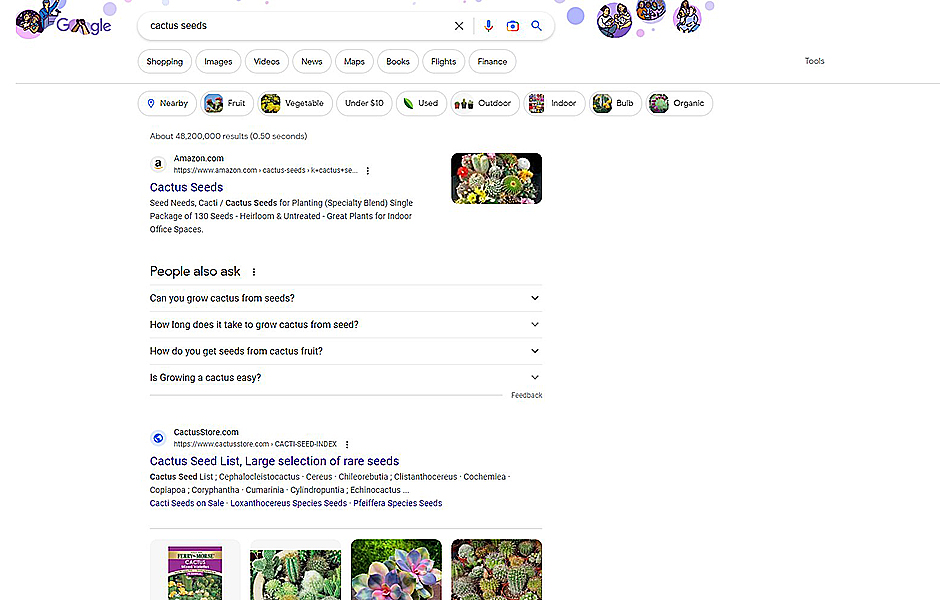 You researched the SERPs and the construction of the top ten pages.
You should follow a similar structure for your post, but make sure you add your uniqueness and create something you consider better for the searcher.
You can use tools like SurferSEO and Grammarly to help you craft the best content possible.
Aim to answer the searcher in the same way that the top ten pages do. 
Add compelling images that help add value to your post, and add videos and other media assets to help the reader better understand the subject.
Create a rich experience for the reader and a post you can be proud of that other websites might use as a reference for their audience.
Try to write your post in a Google doc so that you can move it to your Content Management System (CMS) later.
Most people use WordPress for their websites, which is undoubtedly one of the best options.
Creating your article away from your CMS allows you to focus on the creative process more efficiently.
Once you have written your content, it's time to move it to your CMS.
Moving your article should be straightforward, depending on which theme and block builder you use. 
But before you hit the publish button, you should do some essential On-page SEO.
By doing this, your article will tell search engines what it is about and give some context of how it should be understood, categorized, and served to the searcher.
Here's a list of updates you should apply to your content before you publish it:
Make sure the URL contains the keyword.

Ensure the title tag has the keyword – try to front-load it.

Try to write a compelling meta description and use the keyword in the text.

Use the keyword in the H1 tag. Make sure there is only one H1 tag.

Use the keyword in the first H2 tag if you can.

Add the keyword to the first and last paragraphs.

Add the keyword to the first image alt text.

Use the keyword in the first image filename.
Of course, there is much more to On-page SEO and SEO, but this will give you a clear advantage over your competition.
Link Building And Promotion
Link building is essential to promoting your blog posts and your website.
If your post is helpful to other websites and their audience, reach out to the owner and ask them to link their website to yours. 
It's best to link specific articles rather than your website home page because your posts may interest them more. It is often easier to get links to interesting posts.
Promoting your articles on social media channels where your audience often goes is also helpful.
While social media does not boost your website authority through do-follow links, it helps with awareness and getting the word out into the world.
Consistently Work On Your Content
It's easy to get lazy and not create articles for your website.
But suppose you can follow a consistent timetable of creating and publishing posts over time. In that case, you are sure to boost awareness of your business.
With time and patience, you will master the art of niche-driven search engine optimization in no time.